PMAX-5500 All In One Functional Smith Machine Trainer Pro
PMAX-5500 All In One Functional Smith Machine Trainer Pro
Ritkeep PMAX-5500 (RK-SM002) Multi-purpose functional Smith trainer pro with adjustable pulleys delivers smoothness for lat pulldowns, cable crossovers, seated rows, and other body exercises. 
HOME GYM SYSTEM:

 
Smith Machine RK-SM002 fitness system combines a power cage, smith barbell, cable system, and squat rack, providing a whole-body exercise without switching between different exercise stations. It also has a dedicated landmine practice attachment. This beast will be the best companion in the home gym for you.
COMMERCIAL QUALITY:

 
Made of 50 X 50mm commercial steel square frame with a thickness of 1.8mm. Cage size – 47.24" x 55.12" x 86.6"| Max user weight – 300 lbs. | Max Capacity Smith Machine Bar – 300 lbs. | Max capacity on J-hooks – 350 lbs. The product weighs 307 lbs, which significantly improves the stability of the cage during exercise.
ADDITIONAL ACCESSORIES:
You will get a pull-up bar, LAT pull-down bar, dip handle, one-handed handle, Smith rod, j-hooks, barbell clip, and other accessories. These accessories can meet pull-ups, bench presses, rope crossing, push-ups, squats, deadlifts, biceps curls, triceps stretches, shoulder presses, sit-ups, rowing, and other training actions. Fully exercise the whole body muscles!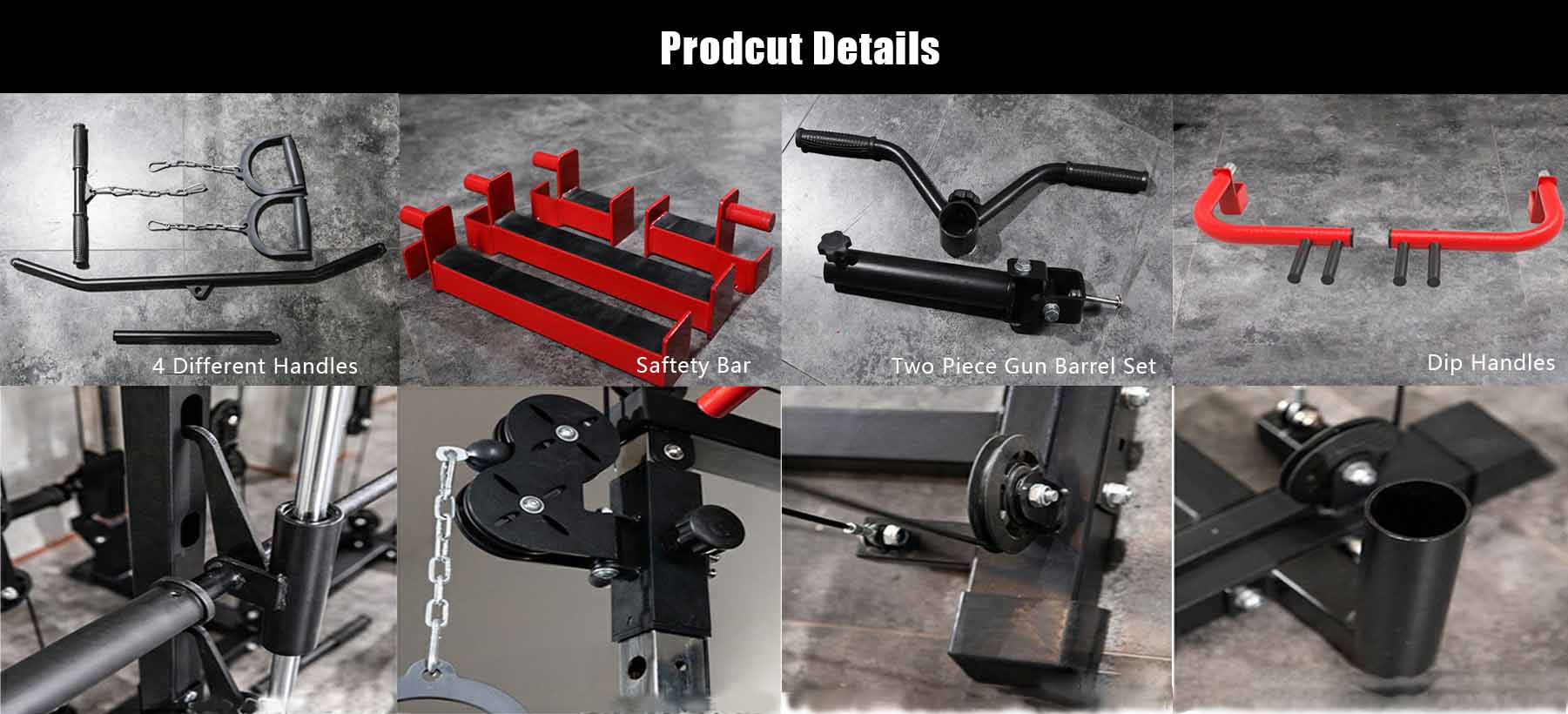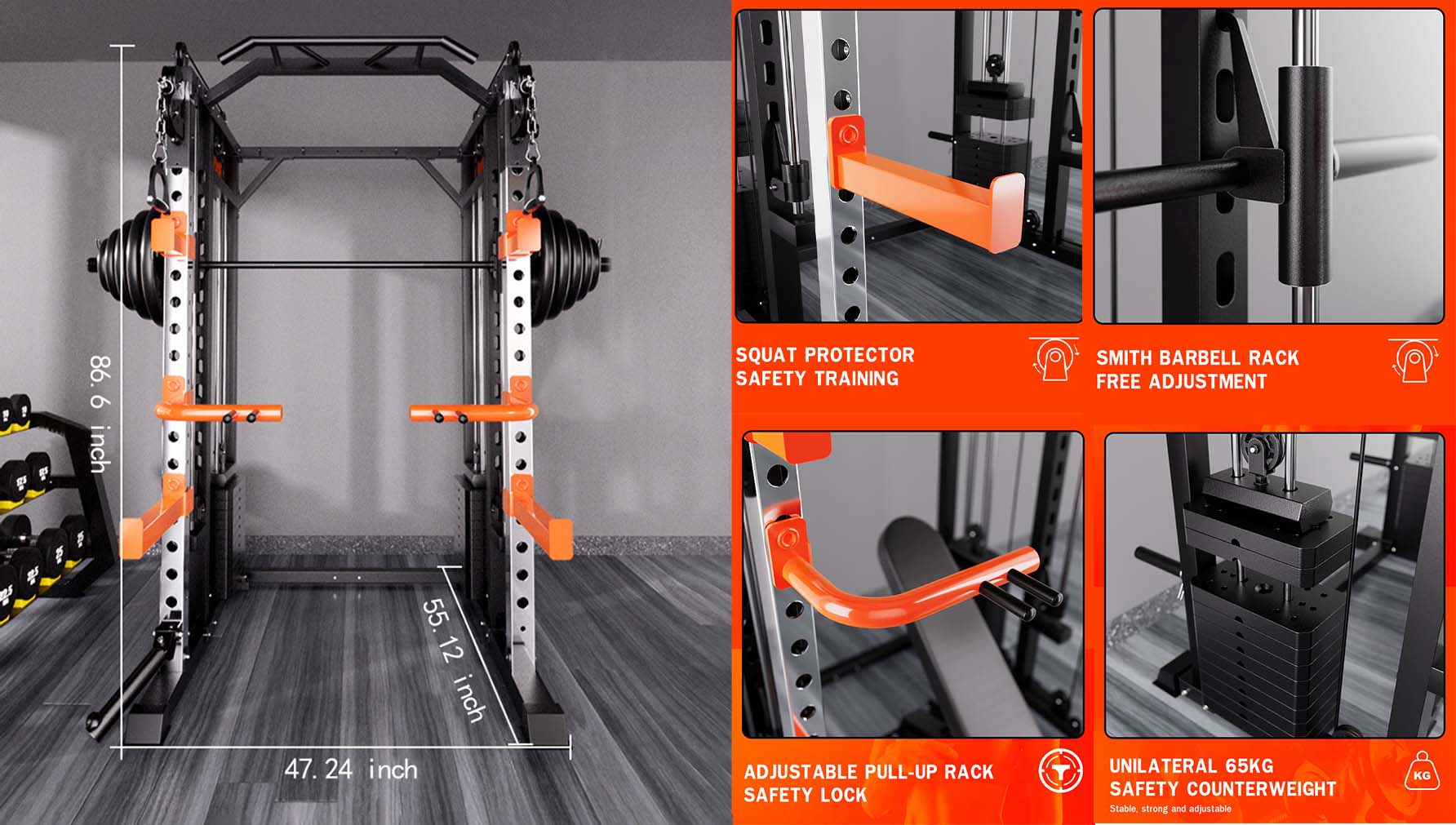 USA Local Delivery
For orders without pre-order items will be processed and shipped within 2-3 days.
For orders including pre-order items will be processed and shipping within

 

30 days.
The delivery timeframe would be

 

10-15 days.
Item will be shipped through UPS or FedEx.
Delivery appointment will be made once freight reaches a destination terminal nearest you. Appointments can be scheduled Monday - Friday, during business hours with the freight carrier. 
*Please Note: RitKeep only ship within the United States except Alaska, Hawaii, U.S. Virgin Islands, Puerto Rico, Guam, and military and air bases. We have partnered with reliable shipping carriers like FedEx and UPS for all our shipments.
Shipping Option
Standard Delivery: $5.99 10-15 days
Free Standard Delivery Over $150
You will receive an e-mail notification from us to track your order once your order has been shipped. If there is a holiday on the way, we will promptly notify you. If there is a delay in logistics, please contact us in time by email: service@ritkeeps.com.
Return Your Items
RitKeep has a 30-Day return benefit after you received the items.You can cancel the order at any time before RitKeep has shipped the products to you. Under normal circumstances, RitKeep will process your order cancellation request within 2-3 working days. Once the order has entered the shipped stage, it may not be canceled. Please contact us by email: service@ritkeeps.com.
After the order is canceled, RitKeep will not reserve inventory for you, resulting in insufficient stock and unable to purchase. After you submit the cancellation request, we will send you the processing result by email. If the cancellation is not successful, please contact us and follow the steps outlined in the Returns Policy to make a return.
*Please Note: The items cannot be delivered due to special reasons, including but not limited to natural disasters, government actions, social anomalies, etc. We will notify you by sending an email.
Warranty Period
Ritkeep provides a comprehensive warranty coverage for a duration from the date of purchase. During this period, we guarantee that your product will be free from any defects in material, functionality, and workmanship. The warranty is exclusively applicable to the original purchaser of the product, as long as you remain the owner. It is important to remember that the warranty is non-transferable.
Construction
FOR ALL WARRANTIES * Warranty may be voided for any product which has been damaged due to negligent or faulty use, alteration, maintenance, storage or handling by the user. Any specific issues regarding a RitKeep product with which a customer is not satisfied will be reviewed on a case-by-case basis. Please note that our warranty does not apply to product or barbell service and maintenance. We recommend you properly service and maintain your product for life long product longevity.
** Warranty against bending does not cover any bar which has been damaged due to negligent or faulty use, alteration, maintenance, storage or handling by the user. Negligent or faulty use includes abusive dropping of the bar (i.e., dropping the bar on a box, bench, spotter arms or pins in a power rack, excessive dropping with insufficient or damaged bumpers, excessive dropping with iron plates, excessive dropping on concrete or similar surfaces, and similar usage). Any specific issues regarding a RitKeep product with which a customer is not satisfied will be reviewed on a case-by-case basis. 
Material
Warranty
Frames
2 Year Warranty

Pull-Down Bar, Dip Bar, Landmine, T-bar, Safety Arm, D-Shape Handle, J-Hooks

1 Year Warranty
Wheels, 

Cables

90 Day Warranty
Dumbbells
2 Year Warranty
Weight Plate
2 Year Warranty
Weight Bench
1 Year Warranty
PRODUCT DIMENSION
RitKeep RK-SM002 Smith Machine combines a free weight Half-cage and Smith Press System in one machine. This Smith Machine offers exceptional quality and design with a great variety of workout options.
High-Quality Steel + Thick Steel Pipe

47.24" x 55.12" x 86.6"

(L*W*H)

229 lbs + 115lbs Weight Plate * 2

Pull-Up Bar, Wide & Narrow Dip, Pull Down Bar, J-Hooks, Smith Bar, Cable Crossover, Foot Pedals, Weight Storage Holder, Landmine

Recommended Max Weight:

300lbs for Smith Bar

450lbs Safety Catches

350lbs for Dip Handles

300lbs for Pull-Up Bar

300lbs for LAT Pull-Down System
WHAT CUSTOMERS THINK
Other top rated products
1. Does this machine needs to be bolted down to the ground?

No, RK-SM002 does not need to be bolted to the ground. it is very stable.
2. What size of weight plates fit the SM002?

Only 2-inch weight plate can be used on the Smith bar.
3. Does this machine support doing squats with spotter arms?

Yes, you can squat with your own barbell using the J-Hooks and Spotter Arms outside of the rack or use the safety option built into the Smith Machine.
4. Can this be used for bench pressing as well?

Yes definitely. We just bought our own bench. And you can place the side bars as high or as low as you need them to be.
5. Does the landmine go side to side or just up and down?

It goes both ways and can meet your landmine training.